Tribal Council #11 Gustavus Tribe
Come on in guys, and now I will bring in the members of the Jury, RP, Ali, DB, Eddie and Monkey voted off at the last tribal council.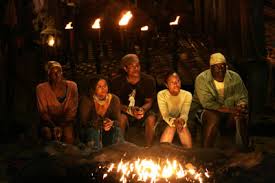 Before we get to the vote, I have a few questions.
Alfons: At the last tribal council you used your Immunity Idol and nobody put your name down. Do you regret making that move?
Aston: Do you feel the pressure after 2 straight tribal councils, you've received votes from them, or do you feel safe?
Blake: How comfortable are in you in this game?
Lincoln: Will there be a blindside tonight?
Ryan: What are the odds of you winning?
Guys, send your votes to me through Facebook or to survivoronlinegaming@gmail.com. The deadline is 8:00 am 4/10/2013 (UTC).