Tribal Council #1 Results
If anyone has a hidden immunity idol and you want to play it, now would be the time to do so... I will read the votes...
First vote: Ali (Self Vote)...

Second Vote: TD (Self Vote)

Third Vote: DB (Self Vote)...
Fourth Vote: Eddie (Self Vote)...
Fifth Vote: Lincoln (Self Vote)...
Sixth Vote: Jordan (Self Vote)...
Seventh Vote: TD. That's 2 votes TD, 1 vote Eddie, 1 vote Ali, 1 vote DB, 1 vote Jordan, 1 vote Lincoln, 1 vote left...
1st person voted off Survivor: Sweden...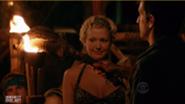 TDSurvivorFan123. TD The tribe has spoken. I think there's a message with the voting and it's if you're not going to be active or follow the rules, the consequences won't be on your side, and I am disappointed with the number of self vote especially when people tried voting through facebook instead of their email account. But hopefully everyone will pick up their lips and the tribe can become strong. But for this tribe to win the immunity challenges, each and everyone of you guys must become active. Go head on out.